Child Guardianship via Last Will & Testament
Can I Use a Last Will and Testament to Name My Child's Legal Guardian?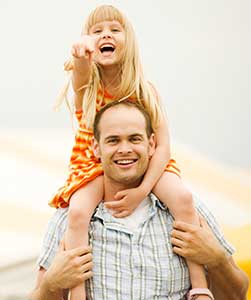 As a good parent, you want to make certain your young children are raised well, even should your life end unexpectedly.
So you look to name the legal guardian of your minor children through a Last Will and Testament, to provide both financial security and parental-type supervision for your young children should you and your spouse die while your children are still young.
But it is critical to understand a very important fact: a Last Will & Testament cannot designate "legal" guardianship, and never can.
Only a COURT can order the appointment of a guardian over another person, including minor children.
So What Can a Parent Do to Name a Legal Guardian?
When one parent or spouse dies, the other parent or spouse continues to be the "guardian" of the children (except in the most extraordinary of circumstances).
Should the second parent or spouse die, a provision in a Last Will & Testament suggesting that a specific person be named as guardian can be looked upon by the appropriate family court or probate court as guidance when creating a guardianship for the minor children.
BUT LET'S BE CLEAR: NO DOCUMENT CAN BE CREATED PRIOR TO DEATH THAT WOULD OFFICIALLY OR LEGALLY APPOINT A GUARDIAN FOR MINOR CHILDREN.
Rest assured, the Court always gives great weight to the person suggested in the parents' Last Will & Testament, since the parents usually have the "best interest of the child" in mind when suggesting such a guardian.
But no suggestion made by the parents is binding upon the court; rather, it is a suggestion that is given the appropriate weight by the court when making a decision regarding the appointment of a guardian via court order.
Can Standard Legal's Will Show My Choice for Guardian to the Court?
In short, yes, in a specific guardianship section contained in all of Standard Legal's Will documents written for people who have minor children. The Last Will & Testament documents created by Standard Legal contain the language suggesting a guardian for a person's children, should both parents die before those children reach the age of majority.
(Also, the Pour-Over Will included in the Living Trust documents contain provisions that suggest guardianship and permit parents to provide financially for their children should the parents die when the children are minors.)
While a Last Will and Testament does not truly create Guardianship automatically, but it is the best option available to parents to persuade the Court of their choice.
Ready to CREATE YOUR OWN Last Will and Testament Documents?
See Standard Legal's Last Will Legal Forms Software >
Need PROFESSIONAL HELP drafting a ready-for-signature Last Will?
Review Standard Legal's Last Will Document Preparation Service >
Want to LEARN MORE about Last Wills?
See our Q & A on Wills at 'Ask Standard Legal' >
---
DISCLAIMER REGARDING LEGAL ADVICE: None of information contained on this web site is intended to constitute legal or other professional advice, and you should not rely solely on the information contained on the site for making legal decisions. When necessary, you should consult with an attorney for specific advice tailored to your situation.
---